Working Holiday Visa for your Citizens
For the purpose of promoting greater mutual understanding between Japan and your country, the governments of these two countries agreed to start a working holiday scheme to help encourage the exchange of young people. This program makes it possible for citizens of one country to enter the other primarily for a holiday over an extended period, and also to engage in employment as an incidental aspect of their trip(study) in order to supplement their stay funds.
Upon arrival you'll receive a 180-day visa which can be extended another 180 days during your stay in Japan.
To study Japanese at our school, you need a visa of 3 months or more. If you wish to continue studying Japanese, you will need to change to a student visa. Please contact us for details.
Click on your country to see the details
Details : Citizens from Australia, New Zealand, Canada, the United Kingdom, France, Germany, Ireland, Sweden, Norway, Denmark, Portugal, Poland, Taiwan, Slovakia, Austria, Hungary, Spain, Argentina, Chile, Iceland, Czech, Korea, Lithuania  Hong Kong Estonia.
One-term Intensive Courses
Term Start
January, April, July, October
Class Schedule
Mornings : 09:00 – 12:20 or Afternoons : 13:20 – 16:40
Term Length
Three months (50 classes)
Levels
Beginning(3 levels), Intermediate(3 levels), Advanced(2 levels)
Application Deadlines
| | | |
| --- | --- | --- |
| Term Beginning | Classes Start and End | Deadline |
| January 2023 | January 05 – March 19 | Admission Closed |
| April 2023 | April 08 – June 23 | March 17 |
| July 2023 | July 05 – September 28 | June 23 |
| October 2023 | October 10 – December 20 | September 28 |
Documents to be submitted The application deadline for students wishing to study for just a single term (3 months) is two weeks before the start of classes. But deadline is subject to change without announcement depending on the number of applicants. Please contact us in advance. —Note: this is also the deadline if you are already in Japan with working visa or spousal visa. You can apply online or, if you prefer, you can download and print out an application from our forms page and send to us.
all the needed documentation (via online)
Ⅰ Application form for admission
online
Ⅱ Photograph
online
Fees (one term) For students studying on a working holidy visa on an existing working or spousal visa, the costs are slightly lower, as the admission process is simpler:
The tuition and Fees for 2021
All prices quoted include the taxes.
Admission fee includes extracurricular activities, facilities and the main textbooks.
The above fees do not include some textbooks for JLPT(EJU) test preparation.
Please let me know how would you like to pay Course Fees?
International payments Flywire (recommend).
By international Bank transfer.
Bank transfer fee is not included in this amount. Please burden this at your expense. Thank you.
in person (pay in cash).
When you make a payment through Flywire you can
Track your payment from start to finish.
Save on bank fees and exchange rates.
Contact their multilingual customer support team with any questions, day or night. For more information, visit the Flywire help page.
We will give you a placement test and consult with you to determine which level is best for you.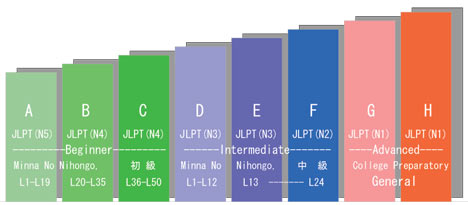 Evaluation
Final exam at the end of each term (every 3 months).
Upon successful completion of each course, a student progress report will be written if requested at the time of the final exam.
How do you apply for a working holiday visa?
Citizens from Australia, Canada, the United Kingdom,France, Germany, Ireland, Austria, Slovakia, Korea, New Zealand, Sweden, Norway, Denmark, Portugal, Poland, Taiwan, Lithuania and Hong Kong, who are between the ages of 18 and 30 inclusive, and citizens from Australia, Canada, Lithuania and Korea who are between the ages of 18 and 25 inclusive, can apply for a Working Holiday Visa(except in those cases where the competent authorities of Japan agree to extend the limitation of age to 30 years.).
Once you send in your application with all the needed documentation and tuition fees.
After that is received, we send you "the admission permit" and some documents. If you want to experience life at YOSHIDA INSTITUTE through a working holiday, feel free to write us in either English or Japanese!
---