Continue studying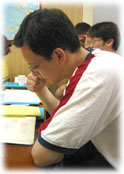 If you are still interested in studying Japanese from January 2021, it is possible to study at this institute while visiting Japan on a 3-month Temporary Visitor's (also known as Tourist) visa.
Also, if you wish to continue studying at Yoshida Institute and need a Student visa, the deadline to apply for the April 2022 term is November 13, 2021.
You will get a Certificate of Eligibility by February 24, 2022. Even if you are in Japan at that time on a Temporary Visitor's visa, it is not possible to change to a student visa in Japan.
If you have a certificate (COE), you apply for a student visa at overseas diplomatic establishment (Japanese embassy or consulate).
Due to the effects of COVID-19, we are not accepting Short Term applications from overseas at this time.
Please feel free to ask.
Please contact us via Contact Form below. Required field:(*)