continue studying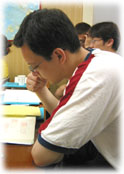 If you are still interested in studying Japanese from October 2018, it is possible to study at this institute while visiting Japan on a 3-month Temporary Visitor's (also known as Tourist) visa.
Also, if you wish to continue studying at Yoshida Institute and need a Student visa, the deadline to apply for the January 2019 term is September 14, 2018.
You will get a Certificate of Eligibility by November 08, 2018. It is possible to change to a Student visa without leaving the country. We will carry out the necessary procedure to change to student visa in November 2018.
Please feel free to ask.
Please contact us via Contact Form below. Required field:(*)