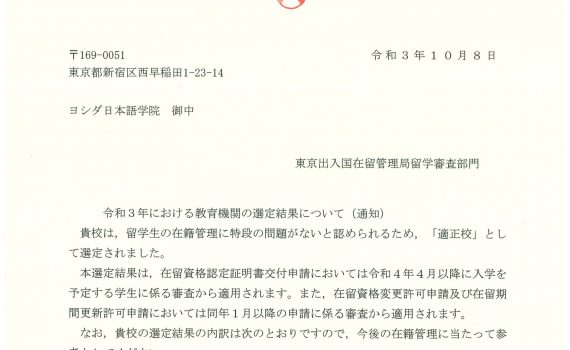 Category:
News
Yoshida Institute of Japanese Language was successfully certified as an 適正校 again this year.
This is a term that may be unfamiliar to many of you, but it is a document that states that the school is doing a good job of enrolling students and teaching them how to live in Japan in a responsible manner.
What this means, in a very simple way, is that you will need much less documentation when you apply for your CoE.
Which documents will be reduced varies from country to country, so that will be discussed on a case-by-case basis, but there are very few.
Also, the visa you get when you first apply for a visa will be valid for a longer period of time.
That's why we are currently accepting applications for the April 2022 class.
For more information, please contact us by email.
yosida@yosida.com