Main office:
Yoshida Institute of Japanese Language
1-23-14 Nishiwaseda Shinjuku-ku Tokyo 169-0051 JAPAN
tel: +81-3-3202-0828
fax: +81-3-3202-0306
email: yosida@yosida.com
Location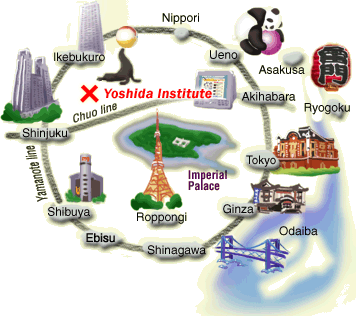 Our offices are located in the northwestern section of Tokyo, close to Waseda University, and just next to the Waseda Station at the end of the Toden Arakawa streetcar line.* We're also a short walk from the Takadanobaba Station of the JR Yamanote line or the Waseda Station of the Tozai subway line. Full-time, intensive classes are held at the main office.(18 minutes walk from JR Takadanobaba station. (12 minutes walk from Tozai-lene Waseda station).
*The Toden Arakawa streetcar line is the last remaining streetcar line in Tokyo! It runs from Waseda through many interesting neighborhoods, passing near many temples and the gravesite of famous author Natsume Soseki. It connects with Otsuka station on the JR Yamanote Line and the Higashi Ikebukuro station of the Yurakucho subway line.