Housing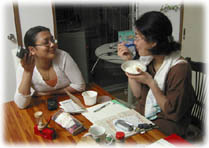 While Tokyo has a reputation as being an expensive place to live, there are actually quite a large number of possibilities open for foreigners coming to study in Japan. A large percentage of Japanese university students study in the Tokyo area so there's a wide Shrutee and Tomo variety of student housing available, from dormitories to private apartments. While Yoshida does not provide any sort of housing for students, we can definitely help you with your housing search.
When you arrive in Japan, there are a number of hotels and inns that are a short commute away from the school, especially near big train stations such as Ikebukuro, Shinjuku and Ueno. Several are listed on our housing options page.
For short stays in Japan, a guest house is often the easiest option. Students live together with other foreigners and Japanese. The monthly rent includes the use of a furnished room, internet connection(WiFi), a shared kitchen and often all utilities also. Some are quite large with up to fifty people living in one building but others are small with only five or six people living together. When you arrive you can investigate the possibilities and see what works best for you.
Procedure at municipal office
After finding housing, students who come to Japan on a student visa will need to register at the local civic center within 14 days after arrival in Japan. You will need to bring your residence card. Once you've received a residence card (zairyuu-card), which can be used as a means of identification in lieu of your passport. : Application form(PDF-30.2kb)
Moving-Out, Moving-In:
When you move out to another city or ward, you must submit a moving-out notice and receive a moving-out certificate before you proceed with moving in to your new address in another city or ward. A moving out certificate will be issued free of charge. After moving in, the certificate must be submitted to the new municipal office to complete the moving-in notification. Soon after you moved, please tell us your new address.
Guest Houses and Dormitories
Guest houses and dormitories provide affordable short-term or long-term accommodation for many students. Guest houses provide rooms in small houses, from three rooms and up, with shared kitchen and bath facilities. Rooms in dormitories are typically the cheapest but afford very little privacy.
There are also listings for guest houses and rooms in apartments shared with other foreigners in two free weekly magazines, Tokyo Notice Board.
Find a host family
Apartments
Students planning to live in Japan for a long time can rent an apartment on their own but the process is somewhat complicated. A typical strategy for finding an apartment is to first explore various places that are a convenient commute away from school and visit real estate agents in the area. Information on apartments is only provided in Japanese so it's best for beginning students to wait a while before trying to rent an apartment on their own.
The following two companies will be able to handle phone calls in English(or Multilingual).
Fontana – Short term rental real estate company with no key money or guarantor required! All apartments are fully furnished. Move-in today with only first month's rent and 1 month refundable security deposit.
Kimi Information Center – apartment listing service.
Fujimi House – Monthly furnished private rooms in Tokyo.
Hotels and Inns
The Yoshida Institute is located in the western part of Tokyo, near Shinjuku and Ikebukuro. When you first arrive you'll most likely need to spend a short amount of time in a hotel or inn until you get settled. There are a large number of hotels nearby and the ones below are some of the more affordable choices. Booking in advance is recommended but you can always reserve a room at the Welcome Inns Reservation Desk at Narita Airport when you arrive.
The Welcome Inns network also runs an online reservation service where you can look up hotels and make reservations.