Let's learn Japanese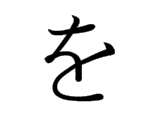 If you want to learn Japanese, please learn HIRAGANA and KATAKANA.
Download hiragana (katakana) chart (pdf) from DOWNLOAD.
You can download the following thing :
1. hiragana chart ( stroke order – pdf)
2. katakana chart ( stroke order-pdf)
3. hiragana practice (pdf)
4. katakana practice (pdf)
Once you've learned these characters, you're ready to start reading Japanese!